NETWORKED WORLDWIDE.
AT ANY TIME.
Homérséklet érzékeny – hutést igénylo – áruk esetében (például: romlandó élelmiszerek, vagy gyógyszerkészítmények), hutologisztikai megoldásainkat ajánljuk szíves figyelmükbe.
Szaktudásunkkal, pontos szervezomunkával és megbízható technikai eszközök alkalmazásával garantáljuk a hutolánc folyamatosságát a címzettig. A folyamatos kommunikáció és a hiánytalan dokumentáció fuvarfeladataink végrehajtása közben cégünk dolgozói részérol természetesen alapkövetelmény.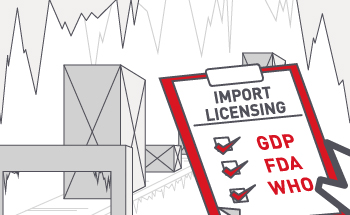 We are consistent
Whether on water, by road or in the air, pharmaceutical products – flawlessly documented – are transported by us according to the legal requirements (GDP, FDA and WHO-compliant). That goes especially for temperature-sensitive goods. Put us to the test!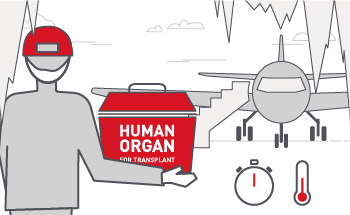 We work with special sensitivity
Temperature-sensitive and time-critical? That's nothing new to us. Anything that has to be sent at a certain temperature and with precision punctuality is in the right hands with us. That goes for preclinical research projects, study materials or other sensitive goods. We guarantee it!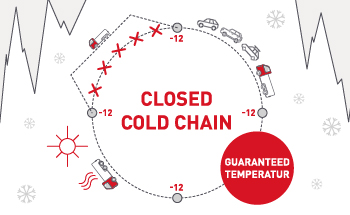 We have a plan
For temperature-sensitive goods, not only the correct number of degrees is important – what's most essential is that there is no interruption of the cooling chain. That's why we're equipped for all eventualities – and ensure consistent adherence to the required temperature. From start to finish.
SPECIAL CASES
Whether we deliver small parcels or complete large project transports:
We have an individual solution for our clients' usual and unusual requests – simple, professional, dependable!